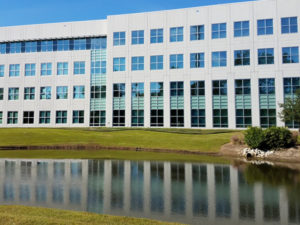 If you value your pond or lake, the management experts at Aquatic Environmental Consultations (AEC) can give you the tools you need to keep it healthy. We offer lake management services for Kansas parks, golf courses and other facilities, as well as for private property owners. Since 1987, we have been helping clients throughout the Midwest with both emergency interventions and ongoing lake management. Contact us today to find out what we can do for you.
Lake Management Begins With Your Initial Consultation
The best way to properly determine your lake management needs is with an initial assessment from our aquatic experts. During this, we will discuss your concerns, take basic measurements and identify the plant species living in your lake. This will allow us to develop a proper strategy to ensure its long-term viability. If you value your lake or pond and want to keep it clean and healthy, contact AEC today to schedule your appointment.
Pond and Lake Management Services
For complete lake and pond management in Kansas, trust the experts at AEC. We offer our clients the following services:
Water quality monitoring: AEC provides both one-time and long term monitoring of several water quality parameters, including pH, hardness, conductivity, phytoplankton levels and more. Long term monitoring provides a baseline to help identify trends and take corrective action to maintain the health of your lake.
Vegetation control: Excessive vegetation can lead to a number of problems in an aquatic ecosystem. If you swim or fish regularly, it can also prevent you from fully enjoying your lake and pond. AEC uses several different vegetation management techniques, including mechanical, chemical, biological and physical controls, to ensure a healthy balance of aquatic plants in your lake.
Fish stocking: AEC can stock larger lakes and ponds with several species of fish, including bluegill, largemouth bass, crappie, perch, minnow and more. We also provide effective management of existing populations to help promote a dynamic, healthy fishery.
Contact Us for More Information
Clients also count on AEC for bathymetric mapping, diffused aeration systems, fountain design and more. Contact our team directly for a complete list of the management services we offer Kansas lakes and ponds.
100 Plus Years of Professional Experience Under One Roof
Together, our team has more than 100 years combined experience providing lake management services in Kansas and throughout the Midwest and Mid-Atlantic regions. We are members of the North American Lake Management Society, the American Fisheries Society, the Aquatic Plant Management Society and other industry organizations. Contact us today for all your lake management needs.