Long-lasting Fountains for Your Lake or Pond
An Otterbine® fountain features more than a half century of innovative water management technology, including disciplines developed by leading wastewater engineering and lake management professionals. Otterbine fountains do more than assist nature in keeping your pond or lake water sparkling clean. They also offer magnificent spray patterns that add remarkable beauty to your water body. This combination of cleaning power and aesthetic value makes Otterbine fountains truly unique in the industry.
For expert assistance in choosing an Otterbine fountain, Contact Us.
Authorized Otterbine Sales & Service Center
Otterbine combines function and beauty with their line of aerating fountains to create beautiful displays while improving water quality in ponds and lakes. Factory trained, and ready to serve – AEC is able to provide: help with choosing the right unit, installation, winter storage and maintenance and service as needed.
We take pride in the service we are able to give our customers before, during and after their fountain purchase. Contact us today to learn more.
Aerating Patterns
Control your fountain's lighting and run intervals with the power control center timer(s) that is included with your purchase (cable not included). You also receive an unprecedented five-year warranty for your protection.
Sunburst

For over 3 decades people have enjoyed the superior aeration and circulation capabilities provided by the Otterbine Sunburst. Considered a  more classic pattern, onlookers are mesmerized by the beautiful umbrella spray pattern while also appreciating the excellent water quality management capabilities that help with algae and other aquatic problems.
Gemini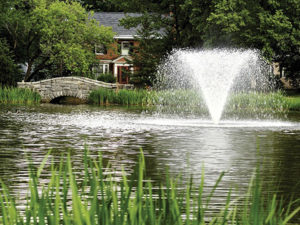 The plume of Otterbine's Gemini pattern offers incredible aeration strength while adding tremendous beauty to any property. With the addition of lights, you can enjoy this fountain's unmatched beauty during the nighttime as well as in daylight!
Saturn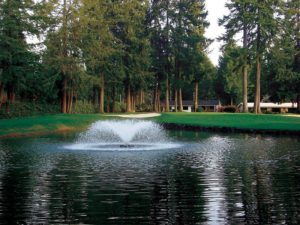 The Saturn offers a "scaled-down" alternative to the Sunburst's far-reaching umbrella spray pattern. Its compact size enables the Saturn to provide a dense spray pattern that is ideal for smaller bodies of water while sacrificing nothing in terms of aesthetic appeal.
Decorative Patterns
Our Decorative Pattern units include a power control center with timer (separate ordering of cable required) along with an exclusive five-year warranty.
Phoenix

The Phoenix offers the ideal blend of beauty and aeration, making it a top choice for homeowners as well as business property owners. Illuminate the Phoenix to provide a spectacular nightscape for your lake or pond. The enhanced horsepower capabilities enable you to boost the horsepower for water bodies containing an excess of undesirable aquatic plant life.
Tristar

Tristar has long been a favorite of homeowners associations that are seeking an effective way to keep water bodies clean while enhancing their beauty. As with the Phoenix, the Tristar provides the opportunity for a dazzling nightscape with the addition of lights, and it also offers enhanced horsepower capabilities.
Constellation

Ideal for windy environments, the Constellation features an enchanting two-tiered fountain-like pattern that is sure to draw favorable reviews from customers or guests. You can also boost the horsepower for effective cleaning in water bodies where an excess of algae or weeds is an issue.
Genesis

The Genesis offers a breathtaking two-tiered fountain-like water pattern that cascades much like a waterfall or architectural fountain. With its 16 silhouetted streams of "falling water," the Genesis is sure to be the focal point of your property that appeals to all who view it.
Rocket

The Rocket's erupting, geyser-like effect catches the eye while enhancing the beauty of a water body. Surround the Rocket with other Otterbine fountains for an even more impressive effect. If you choose to use this unit in challenging aquatic environments, consider combining it with a Sunburst or Gemini.
Comet
The Comet creates a symmetrical spray pattern resulting in a shimmering, full-bodied tower of water that announces its presence with authority. By increasing the unit's horsepower, the Comet can be suitable for difficult water environments.
Omega

The Omega's distinctive 8-nozzle design results in an eye-catching arch-like pattern that is guaranteed to create a buzz.
Equinox

If you're a fan of architectural fountains, you'll love the wonderfully complex and sophisticated patterns created by the Equinox.
Fractionals
Fractional Small Pond Systems
Perfect for small ponds, the 1/2HP Fractional Series is a cost-effective aeration solution for all types of water bodies. The 5-in-1 system features 4 spray patterns with an optional horizontal mixer. The Fractional Gemini and High Volume offer patterns for strong aeration, or if you simply need a fountain pattern, choose the Rocket or Phoenix. Just need to break up stagnant waters or create current? The Mixer is ideal! Product comes with a timer/gfci, two-year warranty, and Deluxe packages include a low voltage LED light set.
Lights
Fountain Glo Lighting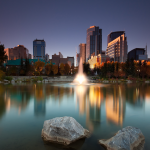 While Otterbine fountains are  beautiful during the daylight hours, they are nothing short of spectacular at night. Experience all your fountain has to offer by adding Fountain Glo low voltage LED lighting. With brighter lights and longer cable runs, Otterbine's LED lighting is available with bright white or warm white 6.5W LED bulbs and look fabulous on any surface spray system from 1/2HP to 25HP. Fountain Glo lighting fixtures are manufactured from durable, high-intensity plastics and come with a 1-year warranty.
Diffused Aeration
When a surface pattern is not desired, but aeration is needed – look to Otterbine's diffused air system. This "bubbler" system places air manifolds at the pond bottom which create a bubble column to create mass circulation mixing bottom and top water layers and breaks up thermal stratification, resulting in a healthy, clean environment for aquatic habitat.
Air Flo 3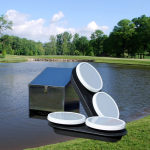 The energy-efficient Air Flo 3 Diffused Pond Aeration System can be installed in remote locations, eliminates surface spray, and can operate in up to 40 feet of water. The quiet system pumps air to diffusers located on the bottom of a pond through compressors on shore.
Industrial Aerators
Otterbine's Industrial Aerator line offers both surface and subsurface aeration solutions for ponds and lakes that suffer from excessive water quality management issues such as retention ponds, effluent water treatment, and a variety of other applications.
High Volume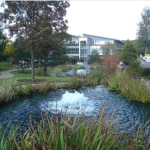 Perfect for ponds that suffer from high nutrient loading or other severe aquatic issues, Otterbine's High Volume creates a low profile pattern that produces one of the industry's highest pumping and oxygen transfer rates.
Mixers: Triton & Sub-Triton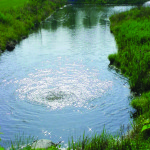 Stagnant waters? Or simply in need of creating directional flow at the shoreline, or in canals or inlets? Otterbine Mixers are the solution! (Available in floating Triton and subsurface Sub-Triton configurations).
Aspirators: Triton & Sub-Triton
These systems create no surface spray by inducing oxygen from the surface air into the water column (Aspirators are available in floating and subsurface configurations).
Giant Fountains
First impressions do matter and that is why Otterbine's Giant Fountains are often chosen by architects and designers to accentuate premier locations. Available in 10HP, 15HP and 25HP and a variety of patterns, these fountains are manufactured with quality components and are both beautiful and versatile.
Super Nova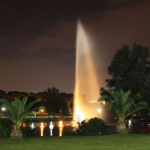 Rising high into the sky, the Super Nova can reach heights of 95ft and is an excellent choice when desiring a dramatic fountain effect that calls attention to a water feature.
Mystic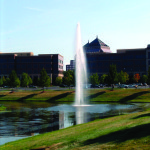 The Mystic is Otterbine's most popular Giant Fountain and produces a beautiful flowing pillar of water that provides impressive aesthetic enhancement to any water feature.
Polaris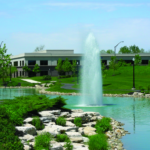 The Polaris offers a thick and powerful geyser-like pattern that is often chosen when trying to achieve a striking yet conservative water feature.
Aqua Star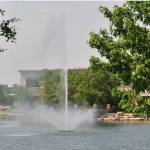 The two-tiered Aqua Star pattern impresses many and is often used by hotels, resorts and shopping centers to create the perfect backdrop.
Triad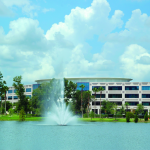 Featuring three tiers that form a fan-like appearance, the Triad fountain was designed at the request of an Otterbine customer and is a showcase of timeless elegance.
We're an Authorized Otterbine Fountain Distributor & Certified Service Center
With so many decorative and highly functional Otterbine fountains to choose from, selecting the most appropriate fountain for your needs can pose quite a challenge. As an authorized Otterbine fountain distributor, we can help you determine which Otterbine product is best for your property while meeting your specific budget requirements. We are also happy to offer additional suggestions that will further enhance the beauty of your Otterbine, and ultimately your water feature. Combine this with our ability to provide expert installation of your Otterbine fountain, as well as any servicing needs that may arise in a prompt and professional manner – you can trust in AEC and Otterbine.
Contact Us for More Information or Schedule a Site Visit
AEC and Otterbine fountains: a winning combination that can provide you with sparkling clean pond or lake water and magnificent waterscapes for years to come!
Contact Us for More Information