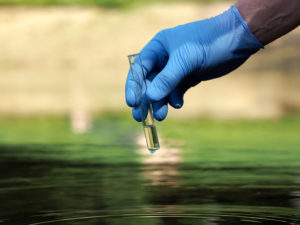 Are you in charge of the aquatic management of a pond or lake? Have you struggled to keep the water clean and clear or been frustrated by attempts to maintain a healthy ecosystem? If you're dealing with algae that's out of control or conditions that are dangerous to people, pets or wildlife, get in touch with Aquatic Environment Consultants. In business since 1987, we know the secret to affordable, effective water quality remediation.
Comprehensive Water Quality Testing
Unless you have decades of experience under your belt, chances are there's more going on in your lake or pond than you really know about. AEC helps to unravel these mysteries with comprehensive testing capable of pinpointing the problems plaguing your water.
Controlling algae growth is one of the most frustrating aspects of lake or pond water restoration. We commonly run into planktonic, filamentous and macrophytic algae. Effective solutions depend entirely on proper identification of the algae present in your water or other problems creating the issue.
Immediate Solutions for Pond Scum, Dirty Water and Dangerous Algae Blooms
One of the biggest complaints we receive has to do with algae growth that is out of control. If your water is too cloudy to see through or if there's a thick, green film coating the surface, you need solutions that will work right away. Long-term solutions will take careful planning, but at AEC, we utilize several pond and lake water restoration methods capable of clearing up your problems immediately.
These include physical controls, like diffused aeration as well as applications of algaecides, which physically reduce excess algae in the water or alter the condition of the water. If you have a toxin forming algae thriving in your waterbody, you have a duty to contain and destroy it as soon as possible. These containment methods are paired with other controls to provide long-term quality management, so your problems won't return.
Long-Term Water Quality Restoration
Without a management plan in place, you will need to perform periodic lake or pond water restoration, a practice that is hard on the budget as well as the environment.
The degree of restoration will depend on your water and the types of issues you're dealing with, but we employ an assortment of mechanical, physical, chemical and biological controls to prevent troublesome outcomes. Aquatic Environment Consultants, Inc. has the knowledge, experience and proven track record to provide a solution that is tailored to the individual needs of your water body.
Whether you have an emergency on your hands or you're just starting out and want to avoid future problems, give AEC a call. Our extensive experience and impressive selection of pond and lake water remediation controls are second to none. Have no doubt our customized packages are capable of meeting the needs of your property and of your budget.