Water Feature Maintenance & Repairs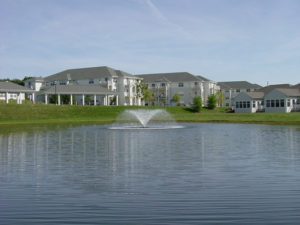 In lakes and ponds of all sizes, water fountains and other features promote improved aeration, healthier fisheries and better overall water quality. They also add an important aesthetic element that encourages people to get out and enjoy everything your lake or pond has to offer. Like all mechanical systems, lake fountains require periodic maintenance to ensure they continue working their best. While some routine maintenance is not as difficult, for more in-depth water feature repairs and lake fountain maintenance, professional assistance is necessary. Aquatic Environment Consultants (AEC) can help. For more than 30 years, we have been providing clients throughout the Mid-Atlantic and Midwest regions with expert lake and pond fountain maintenance and repairs. Whether or not we installed your fountain initially, make us your first call for any service issue or other concern.
Why Lake Fountain Maintenance Is Important
A lake fountain is an effective tool when functioning properly, but if it isn't working properly, it can easily throw off the delicate ecological balance of your lake or pond. Common problems requiring lake fountain repairs can include:
Pump or motor failure
Clogging or disruption of the aeration system
Issues with the fountain electrical control system
Corrosion or other damage to piping
Any of the above problems can cause your system to underperform or fail outright. This, in turn, can lead to toxic algae blooms, fish kills and other issues that can be expensive or time-consuming to properly remediate. A small investment in regular pond fountain maintenance saves you both money and time in the long run.
Make Repairs and Maintenance Simple With AEC
Keeping your lake or pond fountain working its best doesn't have to be complicated. AEC can put together a comprehensive maintenance schedule that follows the manufacturer's service recommendations and helps identify potential problems before they become an issue. Our expert consultants work across a wide geographic area, including Nebraska, Iowa, Kansas, Missouri, Maryland, Pennsylvania, Delaware and Virginia. We can make water feature maintenance part of an annual service package consisting of water quality monitoring, algae control and more. Each package is customized to the specific needs of your lake or pond, so you can get all the work done in one visit.
Our Brands
AEC is proud to be an authorized distributor of the following lake and pond products:
Otterbine: Otterbine fountains are available in a wide range of sizes, spray patterns and other configurations. Equally decorative and functional, they make an excellent addition to any lake or pond. The company also manufactures lighting and diffuser systems — contact AEC and let us put together a package containing everything your lake or pond needs.
AquaMaster® : AquaMaster manufactures lake and pond fountains ranging from 0.5 to 25 HP — big enough to properly aerate larger ponds and lakes. The company's products are easy to maintain and extremely reliable, making them an excellent choice for almost any application.
Our experienced technicians can install and service all Otterbine and AquaMaster products. Whether it's lake fountain repair or preventative maintenance, we'll make sure the job gets done right the first time, keeping your factory warranty valid and ensuring the continued health of your lake or pond. We also offer temperature-controlled winter storage for fountains — contact our office directly for details.
Contact AEC for All Your Lake and Pond Management Needs
Don't leave water feature maintenance to chance. Taking the time to have basic maintenance and service performed is the best way to protect your investment for the long term. To learn more about water feature maintenance, or to request an appointment for pond feature repair, call or email the AEC team today.
Contact Us for More Information