Looking for a great way to add beauty to your lake or pond while also enhancing the quality of the water? A Masters Series® fountain by AquaMaster® provides the power and flexibility to create a stunning waterscape on your property. Most Masters Series fountains are interchangeable, offering the capability to vary the spray patterns to create the customized waterscape you desire.
The Many Benefits of AquaMaster Fountains
AquaMaster fountains serve as the focal point of aeration management programs for companies around the world. In addition to being a beautiful addition to any waterscape, AquaMaster fountains also help to increase the water body's oxygen level, which stimulates the natural cleanup process. Through effective aeration, AquaMaster fountains successfully address numerous water quality issues, including weeds, algae accumulation, stagnation and much more.
Lakewood

The standard Master Series model, the Lakewood features revolutionary internal axial flow impeller technology. This enables you to create a full, upright cone pattern. No nozzle is required. Lakewood spray pattern dimensions range from 8' ht. x 18' diameter to 16.5' ht. by 50' diameter, enabling you to choose the size that is right for your water body. As with all AquaMaster fountains, every Lakewood model is UL and cUL-listed for your safety.
Crown & Geyser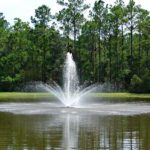 Aerate your pond or lake with our Crown and Geyser fountain pattern. This is a dramatic pattern that achieves both beauty and aeration results. This nozzle combines a lower tier Crown with the vertical Geyser column of water through its center.
Crystal Geyser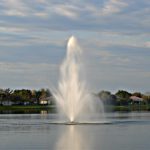 Our Crystal Geyser fountain pattern produces a very decorative crystalline spray pattern in an abstract, multi-tiered formation. This fountain pattern is the perfect solution for aerating you pond or lake.
Wide Geyser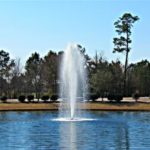 Create a healthy body of water for your fish or water plants with our Wide Geyser. This fountain pattern can add beauty to your lake or pond with it's slightly flared, upright geyser pattern.
AEC Is a Proud AquaMaster Fountain Distributor
AEC is an AquaMaster fountain distributor for their extensive product line. As an AquaMaster sales and service center, we can help you in the selection process as well as provide expert installation of your fountain. We tap into our more than 100 years of combined expertise to provide an aeration solution that meets and exceeds your water management expectations.
Contact Us for More Information
We Also Perform Fast and Efficient AquaMaster Fountain Repair
Should your unit break down or need maintenance, we can also provide prompt AquaMaster fountain repairs to get it up and running in no time. Simply give us a call, and we'll send a qualified AquaMaster fountain repair technician to your home or place of business. Our service area includes the Mid-Atlantic states of Pennsylvania, Maryland, Delaware and Virginia, as well as Iowa, Kansas, Nebraska and Missouri.
Contact Us to Schedule an AquaMaster Fountain Consultation
To learn more about the many ways in which AquaMaster fountains can improve the quality of the water in your lake or pond and enhance the beauty of your property, contact AEC to schedule a consultation today!