The Benefits of Bathymetric Mapping Services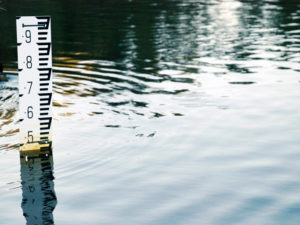 Bathymetry is a process for measuring the depth of a body of water. You're probably familiar with global position systems (GPS) used for navigation in today's vehicles. Bathymetric mapping implements a GPS unit that is paired with an acoustic sounding device affixed to the bottom of a boat to provide an accurate depth measurement of your lake or pond. As the boat travels across the body of water, the sounding device records the depth levels while the GPS unit pinpoints the location.
The accumulated data is then transferred into a bathymetric mapping program that is used to create a map of the bottom of your lake or pond. Depending on the equipment and mapping program's technological capabilities, you may be able to get an extremely accurate model of the bottom surface that includes the most intricate details.
Bathymetric maps are commonly used in dredging applications. When one map is created at the beginning of the body of water's existence and another later on, a comparison of the two can provide useful information regarding depth changes and sediment accumulation. Maps also provide quality control benefits prior to and at the conclusion of a dredging application.
Determining the volume of water in a lake or pond is important prior to treating it with a vegetation control product, as it facilitates the calculation of the amount of product that will be required to complete the task. Bathymetric maps can provide an accurate water volume reading, which helps to pinpoint the precise amount of material that is required.
By using a bathymetric map, you'll have access to critical data about a body of water that can prove beneficial in the present as well as the future.
Contact Us for More Information
AEC: A Leading Bathymetric Mapping Company in the Mid-Atlantic Region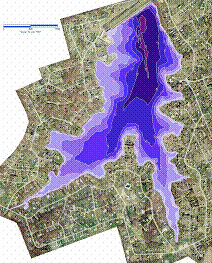 AEC is one of the top bathymetric mapping companies of lakes in the United States. Residential and commercial property owners have come to rely on our lake bathymetric mapping services for accurate and reliable water body depth measurements and to get a true depiction of the contours of the lake or pond's bottom surface. This provides vital information that assists in the decision-making process regarding the use of applications, such as dredging.
Providing Effective Aquatic Management Solutions Since 1987
When you choose AEC as your bathymetric lake mapping company, you gain access to aquatic management expertise developed over a quarter century of successful application. We implement the latest technological innovations when providing our bathymetric lake mapping services, including using state-of-the-art measuring equipment to ensure accuracy. When the measuring and mapping process is concluded, our bathymetric lake mapping professionals have the knowledge and firsthand experience to offer an aquatic management recommendation you can trust.
Whether you own a commercial property, such as a golf course, condominium or corporate complex, or a private residence containing a lake or pond, AEC will provide an aquatic management solution that will enable you to meet and exceed your water management expectations.