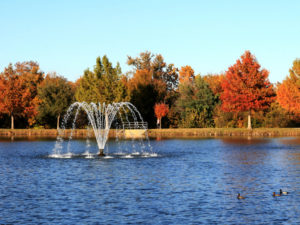 Fountains and aerators are essential components of many lake management systems. Installing an aerator in your lake helps maintain a proper balance of oxygen in the water, which contributes to healthy fish and plant growth.
Like all mechanical devices, however, fountains and aerators require proper care and maintenance to ensure they continue to deliver the performance you expect of them. When temperatures dip in the winter, the decision to remove and store your fountains and aerators is an important one.
Advantages of Winter Lake Fountain Storage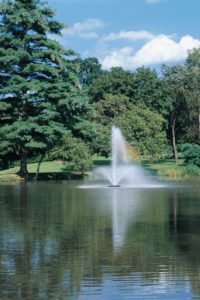 There are many benefits to storing your fountains and aerators away for the winter. Certain types of aerators should always be removed for the winter months. Others, such as subsurface aeration, are better suited for year-round use. Always check with the equipment manufacturer or supplier to ensure you're following their guidelines and keeping your warranty intact. For installations that have the option of being used year-round, there are still many benefits to removal. Removal can extend the life of your aerator or fountain, reduce wear on your motor, and save you the energy costs associated with continual use. Removing a lake aerator for the winter is convenient as it gives you the chance to perform routine maintenance that can extend its life.
What if I Keep My Fountain in My Lake or Pond?
If you decide to leave your lake fountain running for the winter, you should not turn the fountain off when water temperatures drop below 30 degrees. When the fountain freezes, it can cause expansion in the spray nozzle causing them to break.
Contact Us for More Information
Pond Fountain Winter Storage at AEC
As part of our comprehensive lake and pond management solutions, Aquatic Environment Consultants (AEC) can remove and store your pond's fountain. As an authorized vendor of Otterbine and AquaMaster products, we know what's best — for the units we sell and for the health of your lake.
All pumps and fountain components are stored in our secure, temperature-controlled location. This prevents damage and also gives our technicians the opportunity to perform a comprehensive inspection and cleaning. Winter lake fountain storage is only one of the many services we offer. For more information about what we can do for you, contact our office directly to speak with one of our experts.