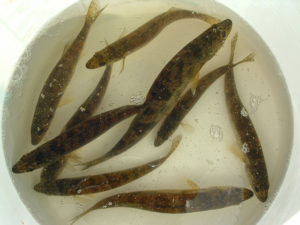 If you need fish for stocking your lake or pond, AEC offers a wide selection of game fish for sale. We specialize in providing large quantities of game fish for sale at wholesale prices. Choose from a wide assortment of fingerlings for popular species including:
Largemouth bass — These fish are excellent predators, making them an ideal choice for stocking ponds with an overabundance of smaller prey fish. As fingerlings, largemouth bass dine on microscopic organisms but also adapt to a diet of larger species, such as crayfish, as they mature.
Smallmouth bass — Unlike their largemouth counterparts, smallmouth bass are not necessarily ideal fish for stocking ponds, as they tend to prefer larger lakes, rivers and streams. However, smallmouth bass do well in deeper pit ponds containing sand or gravel.
Walleye —Walleye are an excellent predator fish for stocking in larger lakes. They are great for managing over populations of yellow perch, but it is often not the best fish for stocking ponds.
Bluegill — The bluegill thrives in warmer, heavily vegetated areas of lakes or ponds, and they also serve as an excellent food source for largemouth bass. Mature bluegill can reproduce in great numbers. Bluegills will feed on insects and small fish.
Crappie — Crappies are a suitable fish for stocking larger ponds and lakes that are frequented by fishermen. They also can help to control the sunfish and bluegill population in your pond.
Perch — Like the bluegill, perch species, such as the yellow perch, do well in warmer, heavily vegetated water and tend to prefer the same food sources.
Baitfish — Minnows and shiners are excellent fish for stocking ponds, and they reproduce in great numbers. By also stocking your pond with largemouth bass, you can help keep your minnow population under control.
When Is the Best Time for Pond Fish Stocking?
The majority of our stocking occurs in autumn when the weather conditions are optimal for fish survival. Ideally, pond fish stocking should take place when the water temperature is more than 45 degrees but does not exceed 60 degrees. The aquatic biologists at AEC can assist you with the entire lake and pond fish stocking process!