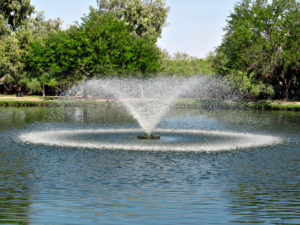 For all your lake management needs, Aquatic Environmental Consultants (AEC) can provide experienced, professional service, sophisticated solutions and an outstanding commitment to delivering value for our customers. We offer comprehensive lake management services in Delaware and throughout the Mid-Atlantic region. With over 100 years of combined experience, our team can keep your lake or pond healthy for the long term. Contact AEC to schedule your initial consultation with one of our experts.
Our Services
At AEC, our goal is to be the premier lake management company in Delaware. That means offering our clients the best selection of services possible, including:
Water quality testing/monitoring: Water quality monitoring is an important part of pond and lake management. AEC provides several levels of testing to give you an in-depth look at your lake; key parameters we test for include pH, temperature/dissolved oxygen profile, chlorophyll levels and more. Because a lake or pond is susceptible to change over time, we recommend long term monitoring of these and other factors to provide a historic baseline.
Vegetation management: The amount and type of vegetation present in your lake is an important health indicator. However, for many, excessive vegetation can limit one's enjoyment of a lake. AEC can help you find a balance between a healthy lake with lots of good vegetation and one that's still amenable to fishing, swimming and more.
Bathymetric mapping: Get a better look at your lake with our bathymetric mapping services. Using GPS technology, AEC can provide a 3D picture of the bottom of your lake, useful for a variety of dredging, planning and monitoring purposes.
Fish stocking: If your lake is used for fishing or aquaculture, we can help you manage and maintain healthy population levels. For larger lakes or ponds, we can also arrange stocking of bass, walleye, bluegill and other popular species.
Contact Us for More Information
Delaware's Lake Monitoring Experts
Since 1987, AEC has been providing comprehensive monitoring and management services for Delaware lakes and ponds. We are an accredited member of the North American Lake Management Society, the Northeast Aquatic Plant Management Society, the American Fisheries Society and more. Contact us today to schedule your initial assessment — during it, one of our technicians will discuss your concerns and obtain important information about your lake or pond that will help us develop a management strategy going forward.
If you value your lake or pond, trust its health to Delaware's aquatic experts. Call AEC today to find out how we can help you.