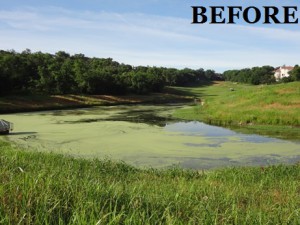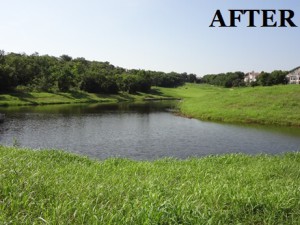 Your pond or lake is an important investment. Protect it with yearly lake maintenance by the water experts at AEC.
For over 30 years, businesses and property owners throughout the Mid-Atlantic region and portions of the Midwest have counted on AEC for comprehensive lake and pond management. Whether you represent a corporate complex, homeowners' association, golf course or other property with a lake or pond, you can benefit from our decades of experience.
With annual maintenance, you can keep your pond or lake healthy, prevent costly problems, make budgeting easier and extend the lifespan of your water feature equipment. Contact us today for more information on what annual management can do for the health of your pond or lake.
Ensure Your Pond Stays Healthy
A pond or lake is an intricate and delicate ecosystem. You must maintain its balance in order for your water body to stay healthy.
When organic matter such as dead plants, grass clippings, excess fish food or fertilizer decays, it releases nitrogen into the water. If the levels get too high, it could be toxic to your fish or cause excessive plant growth. With yearly pond maintenance, AEC can ensure organic matter isn't harming your fishery or water quality.
Decaying organic matter also produces phosphorus. Although phosphorus is beneficial to soil, it can be damaging to ponds and lakes. With high phosphorus levels, algae can grow in excess, choking off the vital supply of oxygen your pond or lake needs. AEC's yearly lake algae control will keep your phosphorus levels in check so your lake's appearance and health remain clear.
Contact Us for More Information
Prevent Costly Problems
Once algae has overtaken a pond, it requires specialized products and techniques to restore the balance which results in additional costs. With yearly pond management, you can prevent problems instead of spending money fixing them.
From algae growth to fountains and diffusers, yearly pond maintenance ensures all components of your lake are in check. Protect your pond or lake from costly problems or equipment replacements in the future.
Make Budgeting Easier
With yearly pond maintenance, you can more easily budget for your pond's needs. During annual maintenance, AEC pond and lake specialists will review your pond's current needs and provide information on what measures need to be taken throughout the year — including the materials needed to keep your pond healthy. You'll know just how much to budget for your pond's year-round maintenance.
Extend the Lifespan of Your Pond's Equipment
From pond aeration and diffuser systems to fountains, your pond equipment requires regular maintenance. With yearly pond service from AEC, you can ensure your equipment continues running at peak efficiency while extending its lifespan.
With a combined 100-plus years of hands-on experience, the team at AEC is qualified to keep your pond healthy. With yearly pond maintenance plans, you can protect your pond and water equipment from long-term costly repairs. Contact us today at 717-264-9778 for more information on our yearly lake maintenance plans.